Techpluto partners with tradepub. Techpluto will now provide you quality eZines and whitepapers absolutely free.
In an effort to create a bank of FREE & quality eZines and whitepapers on TechPluto,we have partnered with Tradepub to provide our readership with selected eZines and whitepapers related to the field of Internet,IT,finance and other influential circles of world economy absolutely FREE.
We have especially created an eZine Shelf(see the upper tab) to maintain a repository of tech eZines & whitepapers(again,all are free) from now onwards.
We will add a new eZine/whitepaper to eZine Shelf everyday so watch out for regular dose of quality eZines and whitepapers added to TechPluto's eZine Shelf.
And here's the flagship entry to eZine Shelf…
………………………………………………………………….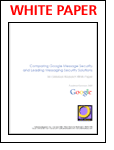 Title : Google vs The World : The Battle of the Message Security vendors 
Brief-up :With such a powerful name behind it,'Google Message Security' stands out in a sea of products that do exactly the same thing – or so they say. So when it comes right down to it, how does the Google selection stack up against the rest of messaging security's big guns?
Publisher : Google 
Free Download link
………………………………………………………………….
For more eZines and Whitepapers,visit here
—
See ya
Prashant Sharma
Editor-in-Chief,Techpluto